VIP - Taken By The Billionaire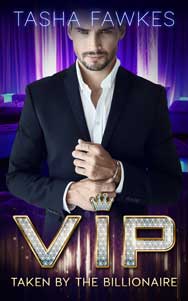 Daniela Caldwell's day is bad, and getting worse. Work accident, emergency room visit and now this; finding her longtime boyfriend in bed…with a guy. Can it get any worse?
When a kind stranger, Aria, invites her on a weekend trip to Florida with the promise of hot guys and parties, she goes along. Nothing like a fun weekend to help take her mind off things.
But this is not just any party. A stable of hot guys was an understatement. And then, there's Club Bliss – VIP's only.
It's anonymous, it's hot and it's a club unlike anything Daniela has ever seen. Tempted with an offer she can't refuse, she indulges in activities with a mysterious stranger in a pitch-black room.
Jase Tyler is a billionaire. He has a stable of women at his beck and call. He has a rule. No relationships, ever. Then he meets Daniela, and for the first time ever, he's tempted to bend his rules.
But it's more complicated than that. Other forces are at work. Old habits are hard to break.
It was just casual, wasn't it?
A standalone novel, no cliffhangers!
Read VIP FREE today!